Dance and media art meet to produce a wonderful world of cute pop
The performance of
The Rainy Table
is the final event held in celebration of the 5th anniversary of the Yamaguchi Center for Arts and Media [YCAM].
This new performance piece is the result of the first ever collaboration between Strange Kinoko Dance Company and media are unit plaplax (Motoshi Chikamori, Kyoko Kunoh, Yasuaki Kakehi), created over the period of approximately one month during the artists' residency at YCAM.
The fruit of the challenging endeavor of Strange Kinoko Dance Company and plaplax to create a full-fledged piece of dance performance piece,
The Rainy Table
announces an intriguingly new work in YCAM's continuing exploration of new territories in art, media and physical expression.

A journey that departs from the memorable scene of a "table in the rain"
Embark on an exciting adventure through cute and exciting adventure.
Strange Kinoko Dance Company are renowned for translating casual everyday sensations and emotions into a cute dance style, while plaplax combine daily goods and media technology to create works of art that excite the senses and spark the imagination. What these two collectives share is the ability to locate the most surprising and fantastic occurrences in "daily routine", and illustrate these in a playful manner. This co-production revolves around the theme of a "journey" that expands from a small gap in everyday life. Surrounded by various imagery and visual art, the dancers' movements lure the viewer into a wonderful adventure. Catch this titillating new piece and enjoy the novel kind of sensation it will evoke.
Strange Kinoko Dance Company has gained popularity with their realistic portraits of "girls" in our time, cleverly illustrated by capturing the dance elements in daily life. At YCAM, they collaborate for the first time with plaplax, a group of artists who have received international recognition for their interactive art incorporating such elements as shadows and flavors. Also participating is Yumiko Ohno (Buffalo Daughter), AOMI for costume who make new works exclusively for this piece. Look forward to experiencing a magical journey initiated by the various interactions of an attractive array of artists from the realms of dance, media technology and music.
Strange Kinoko Dance Company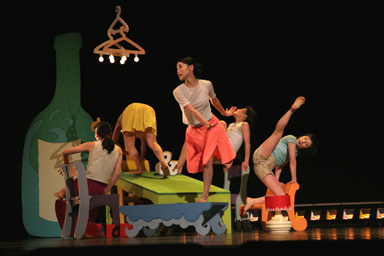 not quite right
(2006) photo: Yohta Kataoka
Turning the everyday into a cute dance spectacle
Launched in 1990, Strange Kinoko Dance Company has cultivated a remarkable dance style that connects directly to everyday life. Rather than simply presenting the habitual gestures of daily life in a stage setting, their dance expresses even sensations and emotions in a natural way that has been bringing pleasant experiences to large audiences. The key of this success lies in the girls' alluring way of displaying the technical skills they honed in their experience with modern dance and ballet in extremely light movements. The pieces of Strange Kinoko Dance Company are distinctive also in terms of creating a new kind of relationship between performers and audience. Not limited to conventional theatre stages, their performances take place at museums, coffee shops, offices and other places, enfolding in close contact with visitors and while reverberating with the respective venue's atmosphere and spatial characteristics. Another highly entertaining aspect of their performances is the insertion of talk and song blocks between dance parts.
Come and let a unique dream world surprise you as it is shaped by the artists' sensitive response to their environment, and a festive sense of community with the audience.
plaplax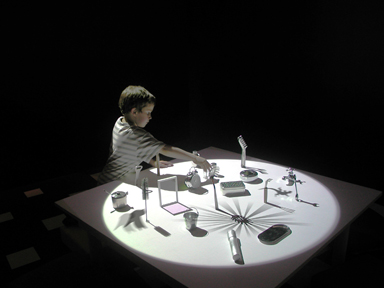 Tool's Life
(2001)
Fantastic media art connecting image and reality
plaplax is a collective of artists comprised of media artist group minim++, who have shown such poetic installations as objects made from various commodities, the shadows of which turn into animated images of animals or airplanes, and central member Yasuaki Kakehi, who has been exploring innovative media technology that stimulates interaction and communication to expand the natures and functions of objects and the human body, producing, among others, works in which viewers/users play hockey against their own mirror images. The group creates works based on immediate yet intangible elements such as shadows, smells, footprints or voices, or constructed on such themes as evidence of existence". While utilizing digital technology, the artists place importance on the aspect of touching and holding things, which has made them popular around the world among children and adults alike. plaplax create new sensory and spatial experiences born out of seemingly magical interconnections between reality and the world of images. For their newest piece they challenged the real, physical bodies of dancers, the result of which promises to turn the stage into a previously unseen scenery.
Concept, direction, choreography: Chie Ito(Strange Kinoko Dance Company)
Stage design, projection, media technology: plaplax(Motoshi Chikamori + Kyoko Kunoh + Yasuaki Kakehi)
Music: Yumiko Ohno(Buffaro Daughter)
Costume: AOMI
Assistant direction: Yoko Koyama
Choreography co-operation: Strange Kinoko Dance Company
With: Masako Ide, Satomi Yamada, Memi Shinozaki, Mayumi Chaki, Mao Nakagawa, Chie Ito
Stage manager: Michiko Yasuda
Animation: Ai Ohara(plaplax)
Programming co-operation: Daisuke Akatsuka
Lighting: Fumie Takahara(YCAM InterLab)
Sound: Takayuki Ito(YCAM InterLab)
Video system design: Richi Owaki(YCAM InterLab)
Technology co-operaion: YCAM InterLab
Advertising design, copy: Gabin Ito(NNNNY)+Yotsubakakou
The Rainy Table
Musicians
Sunshine Love Steel Orchestra
(Tennor: TICO / Low Tennor: Gen Tamura / Triple Cello: Yumiko Ohno)
Guitar & Pedal Steel: Gen Tamura
Drums & Percussion: Yasuhiro Yoshigaki
Recorded and Mixed: ZAK at st-robo
All songs written: Yumiko Ohno
All songs produced: Yumiko Ohno & ZAK
Organized by Yamaguchi City Foundation for Cultural Promotion, Setagaya Arts Foundation, Strange Kinoko Dance Company, plaplax
Co-sponsor: Japan Foundation for Regional Art-Activities
Sponsor: Shiseido Co., Ltd
Produced by Strange Kinoko Dance Company, plaplax, Yamaguchi Center for Arts and Media[YCAM], Setagaya Public Theatre
Support: Yamaguchi City, The Board of Education of Yamaguchi City