Venue: Chuya Nakahara Memorial Museum
London-based United Visual Artists (UVA) work primarily with light as their medium. UVA, who are actively working worldwide, have produced a new installation for this exhibition. The whole outer garden of Chuya Nakahara Memorial Museum located in the central part of Yuda hot springs is the setting for the exhibition. The installation is a responsive work utilising elegant pillars of LED light and sound that rely on ultra sonic sensors to detect human presence.
A forest like sculptural grid will echo the form of the garden, drawing the audience into the space. Inhabiting the work is an ephemeral spirit that reveals itself unexpectedly and then, like many of its kind disappears as you try to approach it.
UVA have attracted attention by their unique image expression and formative design for public installation works such as 'Volume' at the V&A Museum in London and also for their live show design for musicians such as Massive Attack & &U2. This year in Roppongi Hills, Tokyo UVA were commissioned to create the installation 'Contact' for the opening of the UKJP08 programme by The British Council. Their works reflect changes in the audience and the surrounding environment. They show such a high degree of perfection that they are talked about a lot all over the world. UVA have always created innovative trials to challenge the established concepts. This time, there is every reason to expect that they will successfully meet our expectations with their installation in a public space of Chuya Nakahara Memorial Museum.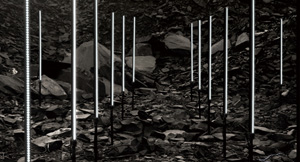 Installation from Battles "Tonto" by UVA / Photo: John Adrian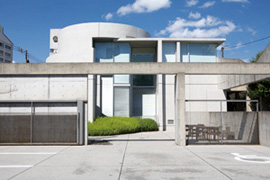 Chuya Nakahara Memorial Museum
United Visual Artists [UK]
United Visual Artists (UVA) is a London-based art and design practice creating large-scale light-based installations. UVA creates more than mere spectacle - our work is about people. Just as the experience of music is transformed by the presence of thousands of people in a concert hall, so our work aims to create a powerful social experience, turning the audience into active participants. UVA seeks to be an environment in which 'art' and 'technology' are equal partners in the creative process. UVA is one part artist's studio, one part R&D laboratory and one part commercial design company. Authorship is ascribed to the group rather than an individual; works are developed in a spirit of collaboration, problem-solving and experimentation. UVA divide our time between commercial projects and commissions from curators and institutions, and thrive on collaboration.
http://www.uva.co.uk/