INTRODUCTION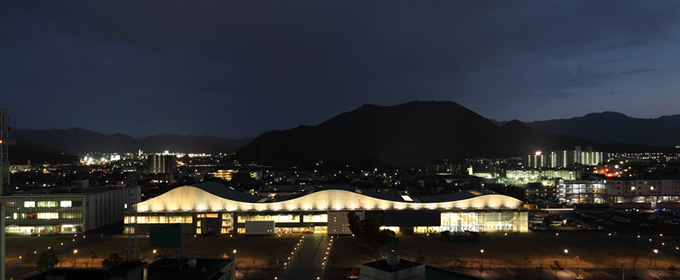 "Yamaguchi Art and Environment for Tomorrow / YCAM 10th Anniversary"
In November 2013, the Yamaguchi Center for Arts and Media [YCAM] celebrates ten years of serving as a base for the creation and promotion of new relationships between art and media around the core elements of art, media and body expression, with an eye toward both present and future generations. While looking back at the Center's past endeavors, the "Yamaguchi Art and Environment for Tomorrow / YCAM 10th Anniversary" is carried out at locations across Yamaguchi in close connection with the local people, in a variety of programs designed to renew our understanding of "environments" as concepts that encompass notions of natural and informational environments.
Term 1: July 6 – September 1, 2013 (50 days)
Term 2: November 1 – December 1, 2013 (27 days)
Yamaguchi Center for Arts nad Media (YCAM)
7-7 Nakazono-cho, Yamaguchi, 7530075 JAPAN
TEL: +81-83-901-2222
FAX: +81-83-901-2216
e-mail: information@ycam.jp
PROGRAM
PROGRAM CONCEPT
With the YCAM 10th Anniversary Program around the core concepts of "art", "environment" and "life", we take another step toward imaginative/creative environments, while deciphering and perceiving this ever-transforming world with a profound sense of empathy. Understanding the city at large as a place where memory embedded in nature overlaps with the layered archive of aesthetic consciousness and wisdom as handed down in the course of mankind's history, we propose an anthropological "garden" as the mother of all art. Based on the possibilities of media technology as a central axis of YCAM's activities from the very beginning, we present attempts to connect past and future, the natural realm and urban culture through imagination and creativity in a variety of artistic formats.
MESSAGE
The Yamaguchi Center for Arts and Media [YCAM] opened in Yamaguchi City in November 2003 as a facility that would continue to play a central role in regional development. YCAM has been engaging in a wide range of activities, from the creation and promotion of new types of art as characterized by media art, to related applied studies in other artistic and industrial fields, and the education of children key players in the next generation of Yamaguchi citizens.
In 2013, the milestone year that marks YCAM's 10th anniversary, we launch the "Yamaguchi Art and Environment for Tomorrow / YCAM 10th Anniversary" with the aim to push the Centerユs activities, based on previously cultivated technical knowledge and experience, even further beyond the framework of a conventional cultural facility,and deep into the mechanisms and businesses of Yamaguchi and its people.
With Ryuichi Sakamoto in the position of artistic director, the YCAM 10th anniversary program is going to visualize and communicate the relationships between civilization and history, nature and mankind through works of art, whereas Yamaguchi will serve at once as a stage and a launching pad from which these signals will be sent out into the world.
I am eagerly looking forward to the celebrations, as I believe this project will add even brighter sparkle to the people and streets, as well as to the historic and natural resources of Yamaguchi.
Sumitada Watanabe
Mayor of Yamaguchi City
FROM ARTISTIC DIRECTOR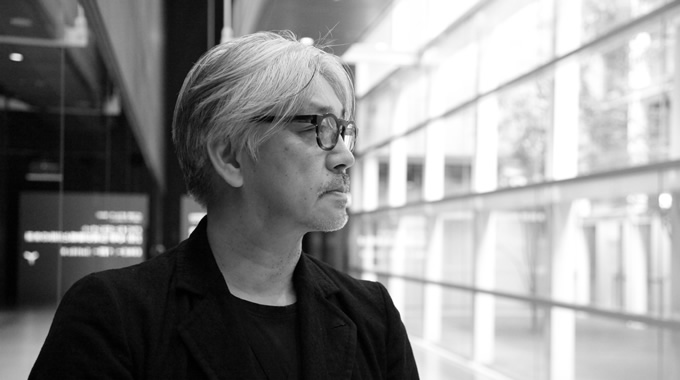 YCAM will be celebrating its 10th anniversary in 2013. Since the Center's establishment ten years ago, Yamaguchi has become one stronghold of art in Japan. New art is being created here and promoted on the international stage, and I hope the program in 2013 will provide additional momentum for these activities. While we may say that the advent of the Internet has led to an impairment of original local cultures and traditions, it appears to me that there are more people these days who reevaluate and cherish local characteristics. For Yamaguchi, the important question is what historical and cultural assets this particular region can draw on to appeal to the international community. I am considering the establishment of connections between art and the citizens of Yamaguchi as a central point on the agenda of the 10th anniversary program. Past efforts in communicating with citizens and children have yielded significant results that should facilitate further development, whereas we have to focus especially on the task of communicating art in order to prevent it from becoming unintelligible.
From Yamaguchi to the rest of Japan; out into the world, and even further out to the future of mankind. The earthquake in March 2011 has reminded us of the forces of nature that contemporary society is getting increasingly ignorant about. It was a major shock that we shall never forget.
I believe that a deeper understanding of nature will ultimately trigger changes in human civilization and art, and if we manage to channel this anticipation into the creation of art at YCAM, we may in fact be able to present the future in visible, audible, even tangible forms. The desire to achieve this is the motor that drives me in my preparations for the 10th anniversary program themed around Art, Environment and Life.
Ryuichi Sakamoto
Ryuichi Sakamoto Musician. Born 1952, currently lives in New York, USA. Released his first album "Thousand Knives" in 1978, and joined the band YMO in the same year. After the breakup of YMO, he composed numerous movie soundtracks and other Academy Award-winning works that established him as an internationally renowned artist who keeps pursuing an innovative sound. Since the opera "LIFE", unveiled in 1999, his works have been dealing with topics related to environmental, peace and social issues, including "Hisen (Non-war)", an anti-war anthology put together in reaction to 9/11. Launched "more trees" in 2007, and took part in forestation projects and educational activities on the prevention of global warming. In 2009, he received an "Echo Award" at the Echo Festival launched under the patronage of the United Nations Environment Programme, and was awarded the Ordre des Arts et des Lettres from the French Ministry of Culture. Received the Artistユs Award from the Agency of Cultural Affairs in 2010, and is continuously active in projects to support recovery from the Great East Japan Earthquake in 2011, such as "LIFE311 by more trees", "Kodomo no ongaku saisei kikin (School Music Revival)" and "www.kizunaworld.org" among others.
LOGO MARK

The 10th anniversary logo is made up of six arrows centering arround the letter "Y" symbolizing YCAM. Depending on the point of view, the logo looks like a cube that can be modified in various ways. Extending the arrows results in a bigger cube. It is also possible to combine multiple cubes. Ten years have passed since YCAM opened its doors in Yamaguchi. Each exhibition and each workshop has been individually conceived as an occasion to connect the local community. Given that the arrows in the logo represent the force behind this mindset, their expansion and connection result in a shape charged with happiness. I designed this logo with the idea in mind that it would be fascinating to see this shape of happiness realized in various forms across the region of Yamaguchi.
Masahiro Kakinokihara (Art director)
Born 1970 in Hiroshima. After working for Draft, set up his own company 10 Inc. in 2007. Main works include the "Singing AEON" campaign, Mainichi AEON Card, R.O.U branding, CI design for the Tokyo Inter- national Film Festival, Shizuoka City Museum of Art, Sho-chiku Geino and Fuji Chuo Kindergarten. Created the Rocca card game (rocca-game.jp), and the "Ponchinpan" picture book (Fukuinkan). Won a JAGDA New Designers Award in 2003, a Tokyo ADC Award in 2007 for "The Smile in Japanese Art" at Mori Art Museum, a New York ADC Award in 2011 for "Rocca", and a Silver Pencil at the One Show Award for the CI design for the Shizuoka City Museum of Art.
ABOUT YCAM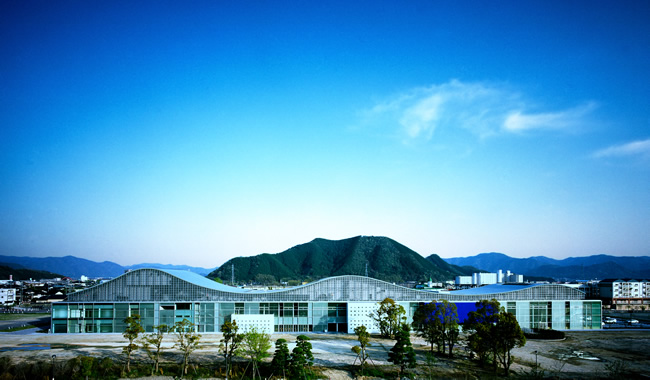 The Yamaguchi Center for Arts and Media [YCAM] opened in November 2003 as an art complex integrating exhibition halls, theatre, film theatre space, and the Yamaguchi City Central Library. On a foundation of media technology incorporating computers and communications, the Center hosts various exhibitions of media art, theater and dance performances, movie screenings, concerts and other sound-related events, as well as workshops and lectures.
The unique approach of YCAM
This is how YCAM helps connect the region of Yamaguchi to the world by way of new artistic creation, while contributing to the cycle of society, culture and creative work, and facilitating diverse communication and dialogue.
In addition to introducing existing accomplished artworks, YCAM produces and presents new original works aimed at creating new forms of artistic expression in connection with media technology and the human body.
Artists from Japan and abroad engage in productive work in collaboration with the specialized research and development team "YCAM InterLab" during residencies in Yamaguchi. This approach has so far resulted in a great number of works that have gained a high international reputation, to be exhibited/performed around the world.
YCAM develops and implements workshop programs revolving around keywords such as "media", "society" and human body", with the aim to nurture and expand public interest and literacy related to information society. These workshops have been occasions for participants from the region to deepen their understanding of art and technology, and to stimulate their imagination and media literacy.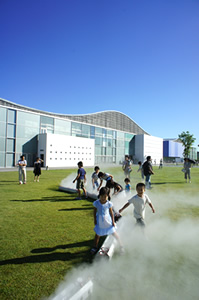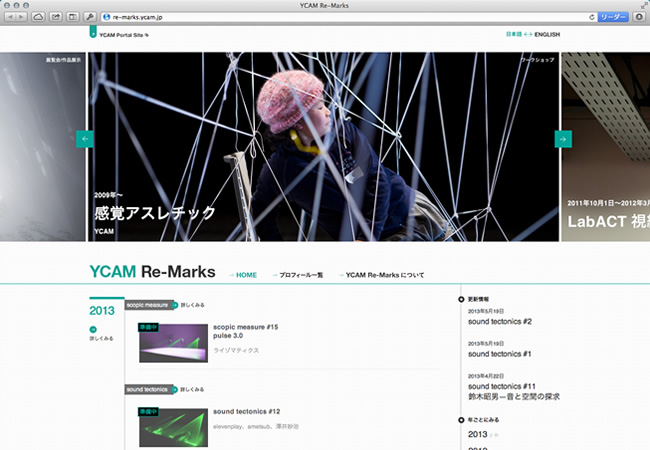 YCAM Re-Marks
YCAM Re-Marks This website was set up with the purpose to introduce from diversified viewpoints a number of projects highlighting the characteristics and originality of YCAM, around a core of previous works produced at the Center.
YCAM has broad experience in creative work related to media technology and the human body. By showcasing these past achievements, the website aims to provide a platform for illustrating new visions of artistic expression that keeps changing with the time.
YCAM Re-Marks
TOP