The first full-fledged theatre production realized at YCAM
A new experience that defies the conventional idea of "theatre"

Masataka Matsuda (playwright/director, Marebito-no-Kai) and photographer Keiko Sasaoka (photographers' gallery) unveil their new theatre piece "PARK CITY" at the Yamaguchi Center for Arts and Media. This YCAM original production is a result of Matsuda's stay in Yamaguchi as part of the "Work-in-residence" program exploring the possibilities of artistic expression together with the Center's expert staff -YCAM InterLab-. "PARK CITY" experiments with temporal, spatial and physical sensation by combining stage art with photography and media technology.
"PARK CITY"website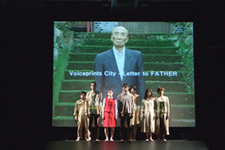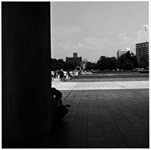 Left: "Voiceprints City - Letter to FATHER" (FESTIVAL/TOKYO 2009) photo: Tsukasa Aoki
Right: Keiko Sasaoka "PARK CITY" (2007)
"PARK CITY" Hiroshima portrayed in words and photographs remote seats equipped with individual video screens

Masataka Matsuda, a leading Japanese playwright/director since the 1990s, has received numerous awards for his experimental work exploring the possibilities of stage arts with the theatre company Marebito-no-Kai. In his newest creation, he captures scenes of the city with the help of Keiko Sasaoka, a young photographer regarded for her original approach. The two artists illustrate through texts and photographs the latent memories of the city of Hiroshima as it was re-erected around a "monument" in the form of a park after the war.
Seats in the theatre are deliberately placed at a distance from the stage, and equipped with individual video screens. This alternative viewing style enables the audience to enjoy a new form of theatre with text, photography, sound and imagery transcending the boundaries of time and space. Look forward to a radically new type of stage production that incorporates Masataka Matsuda's script and direction, Sasaoka's photographs, and YCAM's own cutting-edge media technology.
Written and directed by: Masataka Matsuda
Photography by: Keiko Sasaoka (photographers' gallery)
Cast: Chise Ushio, F. Japan, Chiaki Kirisawa, Goma-no-hae, Takashi Shima, Aki Takeda, Maki Nishiyama, Yuichiro Masuya, Norifumi Miyamoto, Harumi Yamaguchi
Stage manager: Takuro Iwata (YCAM InterLab)
Stage Technicians: Mitsuo Uno (YCAM InterLab), Takuro Iwata (YCAM InterLab), Clarence Ng (Esplanade)
Sound: Takayuki Ito (YCAM InterLab)
Recording: Masamitsu Araki
Lighting: Fumie Takahara (YCAM InterLab)
Video: Richi Owaki (YCAM InterLab)
Costume Design: Kyoko Domoto
Monitor system: Takayuki Ito (YCAM InterLab)
Programming: Satoshi Hama (YCAM InterLab)
Dramaturg: Tsuyoshi Tanabe
Assistant director: Yuriko Maiya
Technical support: YCAM InterLab
Produced by: Akiko Tkeshita (YCAM), Naoko Shiomi (YCAM), Mariko Mori (Marebito-no-Kai), Mao Nishimura (Marebito-no-Kai)
Advertising design: Isao Tanaka (photographers' gallery)
Cooperated by: Gyoto, Eisei, Knit Cap Theater
Produced by Yamaguchi Center for Arts and Media [YCAM], Biwako Hall, Marebito-no-Kai, photographers' gallery
Organized by Yamaguchi City Foundation for Cultural Promotion, Biwako Hall Foundation, Marebito-no-Kai, photographers' gallery
Supported by Yamaguchi City, Yamaguchi City Board of Education, The Agency for Cultural Affairs Government of Japan in the fiscal 2009, Japan Foundation for Regional Art-Activities (JAFRA), The Asahi Beer Arts Foundation, The SAISON Foundation Sponsored by AVOX
Kyoto Art Center support project