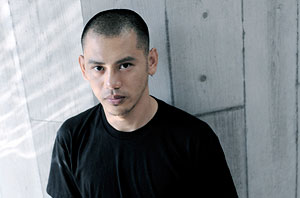 Born 1977 in Tokyo. Commenced his creative activities in 2000, when he launched the "S20" dance company. When the piece while going to a condition was staged at the Rencontres Choreographiques Internationals festival in France in 2002, the festival's director Anita Mathieu referred to Umeda by speaking of "the emergence of a promising young choreographer." In 2003, Umeda unveiled Finore in Montreal, and in 2004, Duo in Rio de Janeiro. Following a residency at French leading choreographer Philippe Decoufle's studio, in 2007 he presented Accumulated Layout, a co-production with the Theatre National de Chaillot (France) that was subsequently invited to the Kunsten Festival des Arts (Belgium), London's Barbican, the Romaeuropa Festival, the Centre Pompidou (Paris), and other prime festivals and venues around the world. In 2008, Umeda presented Haptic and Adapting for Distortion, two co-productions with the Festival d'Automne (Paris) and Romaeuropa Festival respectively. He began to work as a choreographer in 2009, and showed 1. centrifugal, his first piece for a group of dancers, in Japan and Finland. In 2010, he was awarded a Honorary Mention at the international media art festival Ars Electronica (Linz, Austria). At the "Aichi Triennale 2010" international art festival, he showed a dance performance and an interactive installation incorporating light and sound.

You initially studied photography at university. What made you shift your interest toward dance?
The fact that I was doing "photography" actually plays quite an important role in this. While you need to place a certain distance between yourself and the scenery you are about to capture, taking a photograph requires at the same time an objective attitude. Like, taking one step out of that particular environment. That was the point that I felt increasingly frustrated about. What I was after was a form of expression that allowed me to dive into rather than step out of the environment I want to depict. To this day, I'm getting more inspiration from the photographs of Daido Moriyama or Gerhard Richter's abstract paintings than from other choreographers.
In addition to choreography and dance, you also take charge of the design of light and sound for your stage productions. What prompted you to do all these things by yourself?
There are various reasons, one of which is quite simply the fact that none of my friends were working in performing arts or had experience with such things back when I first got involved with dance. The lack of a budget was decisive as well. Generally, I've always approached my work with a pretty clear idea of what I wanted to do, from the colors of spotlights to the type and timing of music, etc. The next thought was then obviously to try and do everything by myself… I guess it wouldn't have been possible to put my ideas into action without a computer though. The computer is definitely a crucial tool, as it allows you to create music even without playing an instrument, and it lets you control the lighting. I basically taught myself all these things in order to be able to realize exactly what I'm having in mind for each individual production.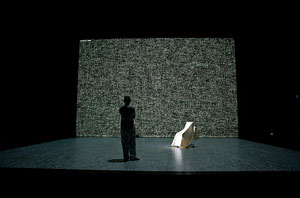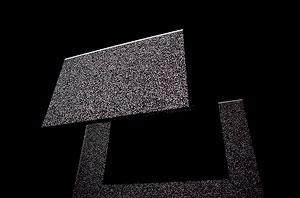 One very characteristic aspect in your works has to be the lighting design. In addition to mere stage illumination, you always come up with diverse designs. Has that always been part of your work in the realm of dance?
Frankly speaking I hadn't seen many stage performances when I started. As I was focusing more on photography, I think there is a greater influence from visual art on my work. Back when I was still taking photographs, I frequently had experiences that made me realize how the world could look like when looking at it from such and such perspective, and that's still a rule that affects my work today. Another idea that played an important part was to present dance as a form of visual art. For the production of a stage piece I first place myself in the audience and imagine the scenery on stage from an objective point of view.
Your performances suggest that you treat light, sound and the human body as equivalent elements. What is your usual procedure when putting together a new piece?
I usually begin with an abstract spatial image, which becomes the "score" for the piece. None of the aspects of sound, light and choreography are dominant, but I use them equally for composing a piece according to that abstract image the respective piece is based on. I have this and that idea, and according to that, I use this and that kind of sound, light and dance… I'm placing so much importance on the piece's overall composition and balance that it's impossible to find the last piece of the puzzle if the first one doesn't fit.
Plus, my choreography is focusing on the "texture" of dance, not on its form. That's why the dance itself changes with every performance. It may look the same to the viewer, but for myself it's something completely different each time.
Does that mean that your own dancing body is part of that spatial image?
The basic reasoning during the conception of a piece is like, "When the dance goes like this, and I mix it with this kind of light and this kind of music, it's probably going to result in this kind of space." What's essential then is the question whether or not I'm satisfied with that result. I'm thinking that this spatial image exists inside the body, so I don't need to film or do something else to look at it closely from the outside. However, there is a difference between pieces with a strong visual feeling and those based on a physical image. When there's more emphasis on the visual aspect, I'm imagining the dance part in a rather visual manner as well, while for a piece that's more about dance I'm approaching work with a focus on the physical notion. In such cases, I don't do such things as filming the rehearsal and then analyzing the images. This piece (Holistic Strata) however is a very visual one, so the delicate parts related to the overall image of visuals and the body I do film and review carefully.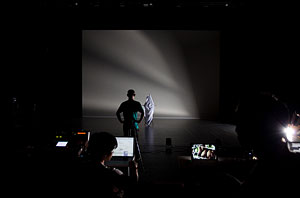 When you work on a piece based on your overall idea that encompasses all aspects, doesn't it happen that the actual movements of your body don't correspond with the image you're having in mind?
What gave me the biggest headache when I started dancing was my own body's speed, but I'm getting closer to my image of it the more experience I'm picking up. I think the speed is even going to increase a little more.
Choreography is for me synonymous with controlling the viewer's sense of vision. It appears to me that controlling the viewer's eye while dancing myself is what ultimately defines a piece's choreography.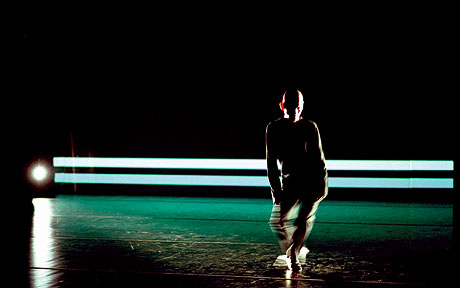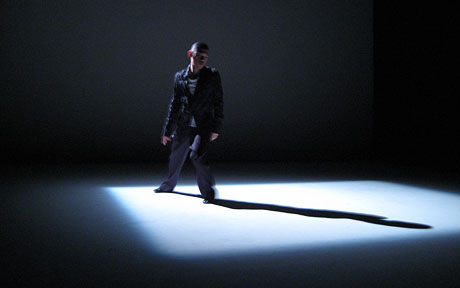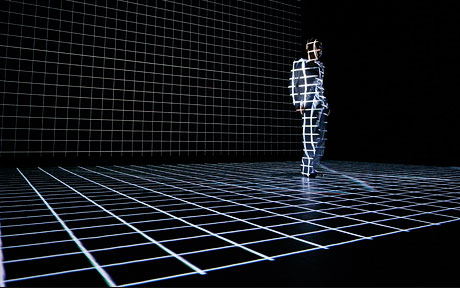 In 2007 you unveiled Accumulated Layout, which you co-produced with the Theatre National de Chaillot (France), following a residency at French choreographer Philippe Decoufle's studio. Was that experience a major turning point?
Yes I think so. This piece was made during two weeks, prior to which I had spent another two weeks at Decoufle's studio. Not that I had produced many dance pieces before that, but I felt for the first time that I'm actually using my brain in the creation process! (laughs) The focus was on "lighting" first and foremost, so I ended up pondering how to use light, and what exactly brightness actually means. I think it was the first time that I was consciously thinking about "light" itself.
Next to receiving an award in the Digital Musics & Sound Art category at Ars Electronica (Linz, Austria) for Adapting for Distortion, in 2010 you also presented a dance piece and installation at the Aichi Triennale art festival. What is your general view of genre-crossing work beyond the realm of dance – sound art and installations for example?
I have been working in a way that places me outside all existing definitions. This is necessary because otherwise I'd end up obeying the rule that a choreographer doesn't do lighting, which again means that I wouldn't have arrived at my present style. Considering the prizes and opportunities to show my work that I'm receiving, I feel that my steering clear of ready-made definitions is being appreciated. I'm very happy about that. I'm definitely going to do a lot more installations in the future. I'll continue working as a choreographer as well of course.
Does your new piece Holistic Strata that you're currently producing at YCAM involve any particular challenges?
Compared to my previous works, my idea for this one was to bring dance and visuals closer together. The process of working with a lot of other people – engineers, programmers, etc. – this time is very different from my usual method. While I have been working out all technical aspects by myself in the past, for this piece I can leave the technical solutions and implementations to others, which allows me to focus on the artistic side. But as I'll be in trouble if the overall control doesn't work when converting the idea into something tangible, I'm keeping that balance firmly on my mind during the entire production process.