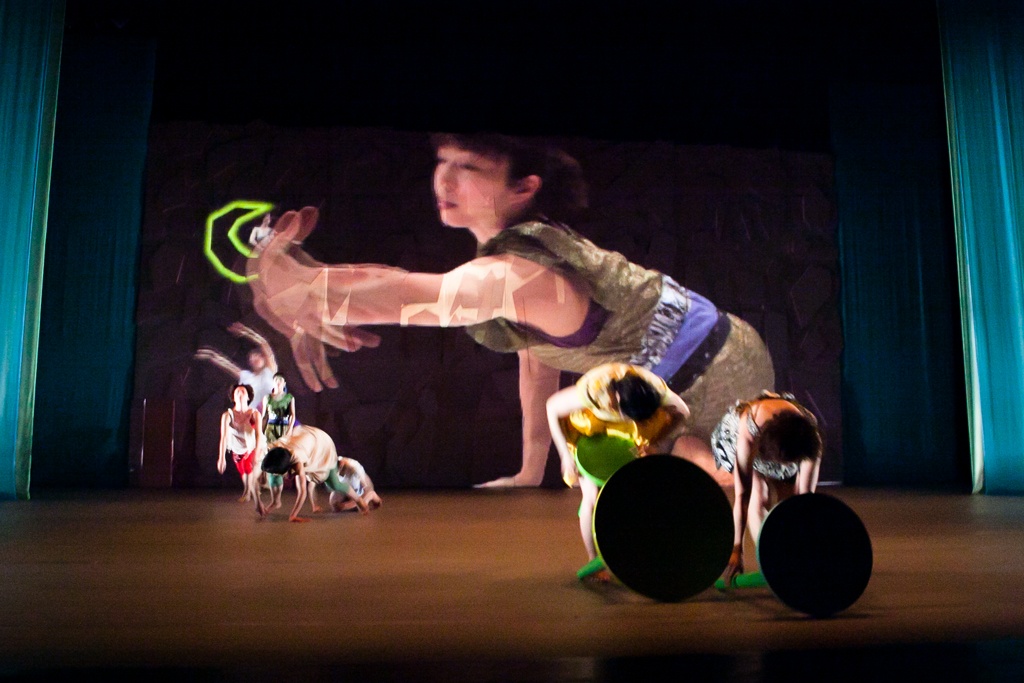 Strange Kinoko Dance Company + plaplax "The Rainy Table"
February 28 – March 1, 2009
Dance performance/commissioned by YCAM
http://therainytable.ycam.jp/
Outline
This collaboration between Strange Kinoko Dance Company and the media art group plaplax revolves around the theme of "a journey departing from a gap in daily routine". Based on a concept developed by Strange Kinoko director Chie Ito, the dance piece incorporates various imagery to enhance the expressivity of the world-view illustrated on the stage. YCAM InterLab was in charge of proposing and implementing various ideas related to imagery production, including the use of projection mapping, and visual effects aimed to transform the viewer's sense of scale.
Developmental accomplishments
Trick video shooting
The utilization of the basic camera effect of showing objects (dancers) bigger the closer they move to the camera made it possible to create in this video a kind of perspective that could not possibly occur in reality. Another trick implemented for this piece was the use of mirrors for filming the dancers' feet, moving at various distances from the camera, in order to gather them together in one floor area. The resulting footage looked as if filmed from underneath the stage floor. This method proved more efficient for producing and editing a video of multiple simultaneously dancing persons compared to the method of synthesizing footage of individual dancers on a computer.
Technical Credits
Concept, direction, choreography: Chie Ito(Strange Kinoko Dance Company)
Stage design, projection, media technology: plaplax(Motoshi Chikamori + Kyoko Kunoh + Yasuaki Kakehi)
Music: Yumiko Ohno(Buffalo Daughter)
Costume: AOMI
Assistant direction: Yoko Koyama
Stage manager: Michiko Yasuda
Animation: Ai Ohara(plaplax)
Programming co-operation: Daisuke Akatsuka
YCAM InterLab
Video system design: Richi Owaki
Lighting Design: Fumie Takahara
Sound Design: Takayuki Ito

YCAM InterLab
>
Developmental Achievements
>
2009
> Strange Kinoko Dance Company + plaplax "The Rainy Table"