NOTE: There is problems that equipment damage due to lightning strikes, including corruption also has occurred data when you use the user kit in outside.
Please note that when you used it in outside.
Loop the two PP bands through the guide found behind the waterproof box in advance.

※ further information: http://www.shinetsu-k.co.jp/index.php?id=111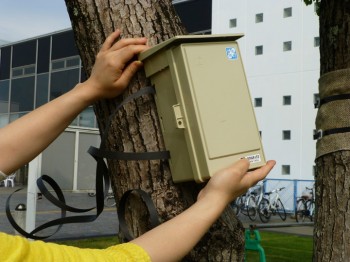 Wrap the PP bands around the tree trunk and finally fix it down with PP stoppers provided.

Bend both ends of the PP band into a loop and place the loops through a stopper. Position the stopper's leg through the loop and pull both ends of the PP band.
Cut unnecessary parts of PP bands.
---
This Document by YCAM InterLab is licensed under a Creative Commons Attribution-ShareAlike 4.0 International License.

YCAM InterLab
>