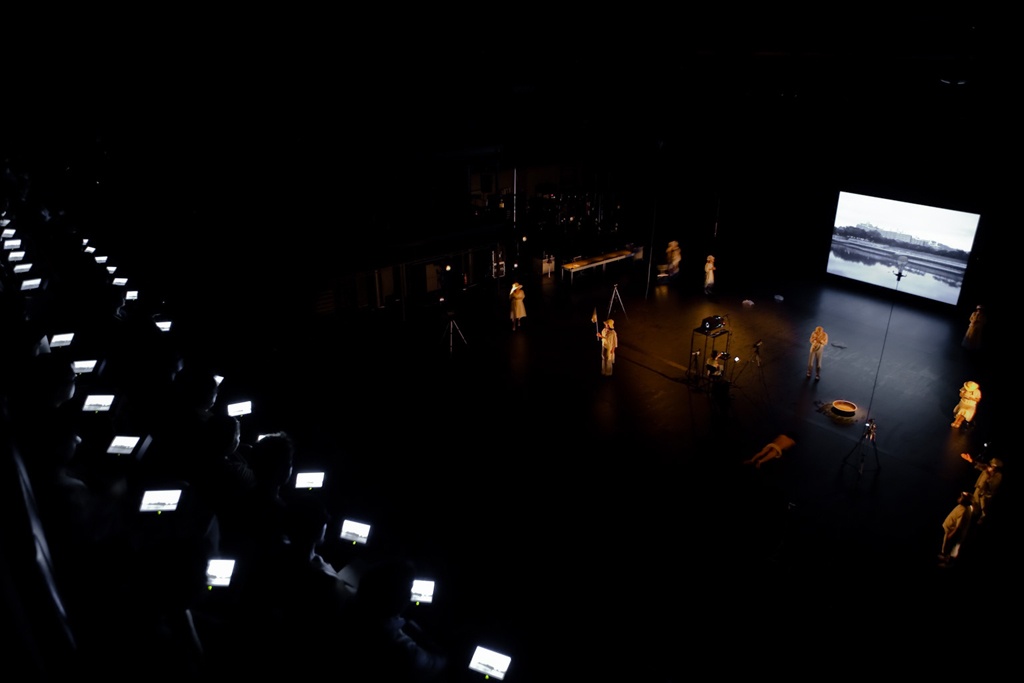 Marebito-no-Kai "PARK CITY"
August 28 – 30, 2009
Theater performance / commissioned by YCAM
PARK CITY (YCAM Re-Marks)
Outline
This theatre piece emerged from a collaboration between playwright/director Masataka Matsuda (Marebito-no-Kai) and photographer Keiko Sasaoka (photographers' gallery). Themed around the city of Hiroshima as it was rebuilt around a park after the war, the piece implements various choreographic methods to involve the audience based on the key aspects of time and distance. In line with Matsuda's direction, introducing a viewing style that combines looking down upon the stage from a distance, and at the same time seeing the actors up close, the YCAM InterLab members suggested to use the venue's second-floor seating only, and transmit images and sounds from the stage to small monitors that would be installed on each seat. In order to realize this idea, YCAM InterLab designed a mechanism for the monitor setup, built a distribution system, and developed software for audio/video output.
Developmental accomplishments
Technical Document
Construction and installation of audience monitors and distribution system
An original distribution system was devised for relaying images from multiple video cameras installed on stage, and previously recorded video material gathered on the stage and in the city of Hiroshima, onto small monitors with built-in speakers installed on each seat in the audience. The UHF transmission method from TV broadcast was employed, allowing stable parallel distribution of different video and audio data. In addition, with the aim of touring around different venues, the efficiency of the piece's setup was subject to testing. The monitor stands in particular were designed and produced in consideration of different seat shapes in order to make them mountable to seats in a variety of different venues.
Development of imagery and sound control software
Software was developed for the synchronous control of a video matrix switcher and an audio mixer in order to switch images and sounds precisely in accordance with the piece's successive scenes. Along with previously recorded footage, images filmed by seven video cameras placed across the stage were fed into the video matrix mixer via twelve channels. The audio mixer was fed through approximately 20 channels with sound corresponding to the filmed material, and sounds recorded by a shotgun microphone installed on stage, as well as by lavalier microphones attached to the ten actors' bodies. With the custom software, images and sounds from the multiple sources could be easily appointed for each scene, and saved/switched with multiple preset parameters such as fade-in or fade-out. This also made it possible to respond as needed to directional adjustments during production stage.

Technical Credits
Written and directed : Masataka Matsuda
Photography : Keiko Sasaoka (photographers' gallery)
Sound : Masamitsu Araki
Costume Design : Kyoko Domoto
Dramaturg : Tsuyoshi Tanabe
Assistant director : Yuriko Maiya
Costume Assistant : Ryoko Katayama
Equipment Sponsor : AVOX
YCAM InterLab
Monitor Distribution System : Takayuki Ito
Monitor Stand Design : Richi Owaki
Video&Sound Control Software Development : Satoshi Hama
Stage Manager : Takuro Iwata
Stage Technician : Mitsuo Uno , Clarence Ng (Esplanade)
Sound Design: Takayuki Ito , Etsuko Nishimura
Lighting Design: Fumie Takahara
Video Technician : Richi Owaki
Video Shooting : Ryuichi Maruo